See that cool new button over there to the right?
...that one....up top....it looks like this: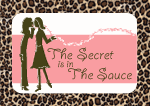 Go ahead ...click on it......I just found it today and it's awesome. They feature different bloggers every day or so, have giveaways and help spread the love( comments) around.....today
The Painted House
is their Queen for a Day..Oh my Lord! You HAVE to read her
UPS story
....it had me rolling on the Floor! So head over and get yourself SITSed...I did!!
Here is the latest giveaway: A genuine Brighton handbag retailed at $175!!