Brandon is learning guitar so Brad is giving him 'lessons"...Hey it's a way to get him over here and 'see" him...LOL....take note of the Yellow Billabong!!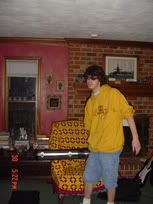 He practiced wuth Brad for a little while ..then asked Britt to come down and sing for him...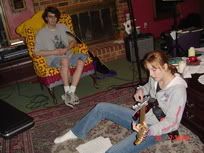 It turned into a regular Jam session.
she has been writing her own songs and they are GOOOD! if I do say so myself...Brandon was impressed...He has been going to this coffeeshop that has open mike nights and I think he'd like to bring her..