Today was a nice lazy day for me.. didn't do much...I wore my other new poncho to church ..again it was a hit..... Brandon came over tonight for guitar lessons. He decided he wanted to learn about a month ago, and he is already getting pretty good. Brad loaned him one of his guitars to learn on.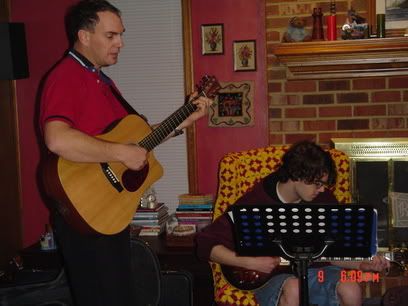 (BTW he's wearing the Maroon Billabong tonight...i think he did it on purpose to mess with my yellow count..LOL)
I started taking down the decorations....here's our silly kitty getting all tangled up in the wire garland.. I put it on the banister for just a second and she wasted no time jumping into the middle of it..