I woke up today in time for the
Namaste
Yoga Workout on
FitTV
. I had a quick glass of water before the workout. After the workout I did 10
push ups
. I've been trying to do these every day. It's been about a week and a half. The first couple days I did them ...they were HARD! Now I can get
thru
the 10 pretty well. I may need to start adding a few more....
9:15:
Green Tea with about 1 tsp sugar. This is a good thing for me...I used to put 3 tsp in my tea...but lately I don't like it so sweet so I've been cutting back. And I'm finding I like it better this way.
Also had a small piece of French Bread with a
smidgen
of European Butter, and 1/2 a yogurt. I wasn't able to finish the yogurt, it was just too sweet for me today, and I really wasn't that hungry.
12:00:
For lunch I had a small bowl of
Miso
Soup, some Wheat Crackers with Spinach and Artichoke Spread, and a handful of Grapes with water. It was a
satisfying
lunch.
I've worked on cleaning out more of my dresser and closet and have a bunch more STUFF to drop of at Goodwill later today.
2:00pm:
Ran some errands including dropping off a ton of STUFF at Goodwill.
4:00pm:
After arriivng home from my errands I had a snack...these were in the freezer....
Spent the rest of the afternoon sifting thru old pictures.....reminiscing.
7:00pm:
Finally got around to having dinner ...starting to feel hungry....had more leftover Couscous...some Veggies with Ranch Dip and a Baby Belle Cheese Round, with Water. I've been trying to drink water thruout the day. I left a few bites on my plate, since I was feeling full already. I recently read Bethany Frankel's Naturally Thin and one of her 'rules' is to "leave a few bites" and not be part of the 'Clean Plate Club"....so I'm trying to incorporate that into my life. I actually really liked the book and felt it was all pretty good advice...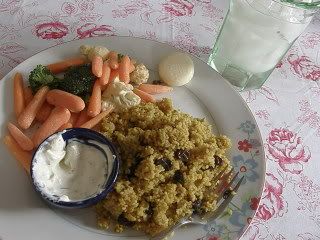 9:35:
Starting feeling a little hungry so I had 3 slices of pound cake again....
Today's Outfit: