Whew what a WEEK !
In addition to Seeing the Pope on Wednesday the last week has just been one busy week. Last Friday the Drama Teen Auditioned for Nashville Star!
She didn't get chosen but that was Ok....although it would have been wonderful for her to have been picked we didn't necessarily expect it...to be honest it doesn't look like she really had a chance anyway....it seems they were really looking to pick an Active Duty Military person.( preferrably IN Uniform)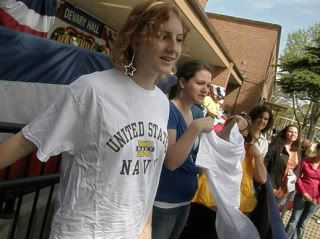 But it was a really fun experience for her. And they DID tell her she did REALLY well at her Audition. I figured maybe they say that to everyone, but then she said they went in 3 at a time, and they didn't say anything to the other two who were in there with her.
The film crew also took lots of video of her before the Audition, and interviewed her a few times....so who knows....she might still get on the show...even if it's just during the preliminary ones where they show contestants waiting to Audition and such.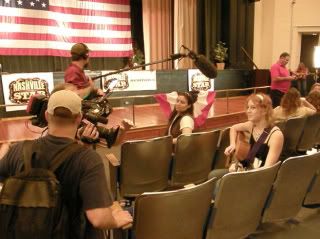 Then On Saturday we went to DC to visit with Olga the Russian girl who stayed with us a few years ago. She had been chosen to come to DC with about 6 or 7 other students to attend some classes and meetings at University of Maryland, and they had the whole weekend to themselves..so the Drama Teen and the Recruit came with me to DC to see her. It was such a beautiful day. Perfect weather. We met her at her Hotel and then walked down to the Metro to go into DC and visit on the Mall at the Smithsonian...She wanted to check out the Air and Space Museum but the line to get in was horrible so she decided she wanted to see the Lincoln Memorial instead...she said it was her favorite. It was a really great day, I was sorry to have to say good bye again.