I've joined a new swap...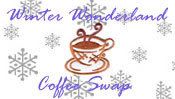 Deadline is tomorrow..so head over quick if you'd like to join too!!!
Here is my questionaire for my coffee buddy:
Coffee
What are your favorite kinds of coffee?I love all kinds so surprise me
Do you prefer whole bean or ground coffee?
ground( I don't have a grinder)
This time of year, there are often Holiday Blends available, and many flavored coffees - do you drink flavored coffee?
yes ..i do
Do you enjoy special blends?
sure
How do you take your coffee? Cream and Sugar? Straight up? Decaf?
No to decaf....and I like a little coffe with my cream and sugar..LOL..I'm basically a Cafe au Lait type girl
Do you prefer drinking from a nice thick mug, or a matched cup and saucer?
I like nice thick mugs
Winter and Holidays - PLEASE be descriptive!
Your pal will need this information to be sure to put together a package you will enjoy!
What is your favorite part of Winter?
cooler weather...being able to snuggle up on sweaters and cozy blankets
Do you celebrate a holiday in December, and if so, which holiday?
yes, Christmas
If you celebrate Christmas, do you put up a tree?
yes...usually we get a real tree...but last year we got a really nice fake one..because DH was deployed and I didn't want to mess with a real one on my own......not sure what we'll use this year since DH is home...
Would you enjoy items related to the holiday, or would you prefer a Winter themed package?
Holiday items are fine..either way I'm flexible
Do you collect anything?
Yes...I have several collections....lately I'm on a bird kick...mainly bluebirds and peacocks........also vintage pyrex...yarn of course...LOL
Are there any holiday or winter-themed items (Snowmen, Angels, Snoflakes, Santas, etc) that you collect?
I have a few holiday collections.....Santa's , Trees, and snowmen....and I've also been collecting the Lemax Holiday Village Houses and accesories...
Do you wear scarves? Mittens? Hats?
Not too often ...it doesn't really get that cold here...I occasionally will wear a scarf..
What is your favorite holiday or winter treat?
Hmmnn favorite?? not sure....drinking hot coffee or cocoa on chilly days and evenings...baking holiday cookies ...gingerbread houses...decorating for Christmas...going to parties..
Please share a favorite Winter or Holiday memory.
I
can't really think of an especially fond memory....I do remember one year 'Santa" came to our house....it was my uncle dressed up as Santa in the most Tacky plastic( yes i said plastic...like garbage bag plastic but in red and white) Santa Suit....and a really tacky cotton ball type beard....it didn't help that he was about the skinniest man alive....LOL.....I knew right away who it was...I was about 7....My mom and Aunt kept saying it was Santa and I kept arguing that NO it wasn't, it was Uncle Louis!!! It really irritated me that they kept insisting that is was Santa when I KNEW it wasn't.....I guess they were trying to not ruin it for the younger kids who were were more gullible that I...LOL
Yarn and Crafting
Do you Knit or Crochet?
both ..but mostly crochet
For how long?
since I was a little girl....I learned to Crochet when I was about 6..I learned in Brownies to make a chain....my mom got tired of me making endless chains so she taught be the other stitches....so then I started making scarves and blankets...as I got older my grandmother taught me some of the more intricate stitches...
Do you like wooden, metal, or plastic needles\hooks? Circular or straight?
I like all kinds...I am a little particular about my crochet hooks....I don't like the ones that seem to be 'flat" in the 'hook" area.....I like the more 'curved" hook...not sure if I'm explaining it properly...there's one brand that seems to make the 'flat' hook..but can never remember which one it is...
What sort of projects do you enjoy making?What are your favorite types of yarn to work with?
I enjoy making all kinds of things.....I use all kinds of yarns...I am mostly into the natural fibers these days.....trying to get out of acrylics......I also do a lot of thread crochet...
Do you spin or dye?
No...I've tried spinning and was interested in dyeing..but I really don't think I have the patience for it...
Do you do other crafts such as scrapbooking or needlepoint or anything else?
Yes, I scrapbook a little...and I do CrossStitch...lately I am into French patterns that I find on French blogs...
General
When is your birthday?
April 9th, 1965
Do you have any children? (Furry kind count!)
Yes.. I have 4 kids ..they are mostly grown ..my baby is Graduating HS this year.....I also have a cat

....
What are your favorite colors?
I'm really into blues lately...and right now I'm very into fall colors ...oranges and reds and browns...black and white too...
Do you have any allergies?
nope