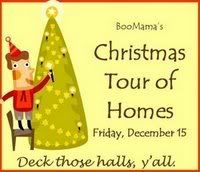 I missed the Tour of Homes

BooMama

hosted last summer.....so when I saw she was doing a Christmas Tour of Homes I wanted to be sure to participate.....I almost forgot!!!!

so here is a

Tour of our Home

.......most of these pictures I've already posted during the last couple of weeks....

Here is our front door...Come on in......
And now you are just inside the front door......there's more to the foyer....but this is the only spot I've decorated....
If you look up you'll see our Big Wreath...this usually hangs outside above the front door...but with hubby deployed this year I am too chicken to climb the ladder to hang it...LOL
Come on into the living room and get comfortable
The Stockings are now hung by the chimney with care...
As you leave the Living Room you enter dining room....please ignore the boxes in the corner and the pictures lying on the floor...
Around the corner to your left is the Kitchen.....here you see the window over my sink...I really like how this vigniette turned out..and there you see our kitchen table complete with Advent Wreath

I Wish I had a recipe to share but I've gotten pretty lazy in my old age.....my idea of 'baking" involves buying

Pillsbury

cookie dough....my favorites are Pillsbury Peanutbutter Cookie


Dough

with

Chocolate Kisses

stuck in the middle while they are still warm....